voucher, celebration or take away
We are here for you!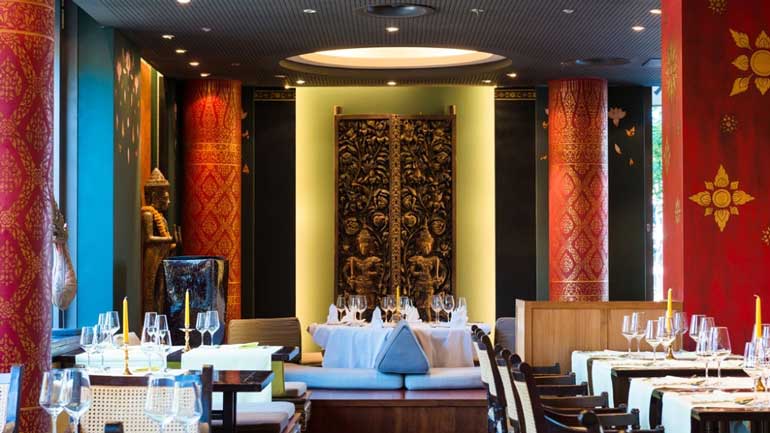 Gift voucher
Gift vouchers for the Restaurant Angkor are very popular with our guests. Vouchers to the value of CHF 50 or CHF 100 can be purchased at the restaurant or ordered against payment in advance.
Please feel free to call us for this.
Give away pure culinary pleasure!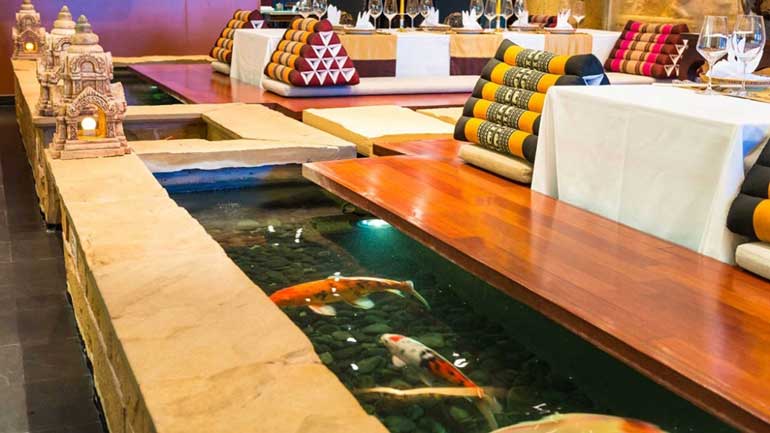 Are you planning an event?
Would you like to celebrate a private occasion such as your birthday or a wedding in a unique ambience? Or are you after an extraordinary location with style for a corporate event?
We are looking forward to you and your individual wishes!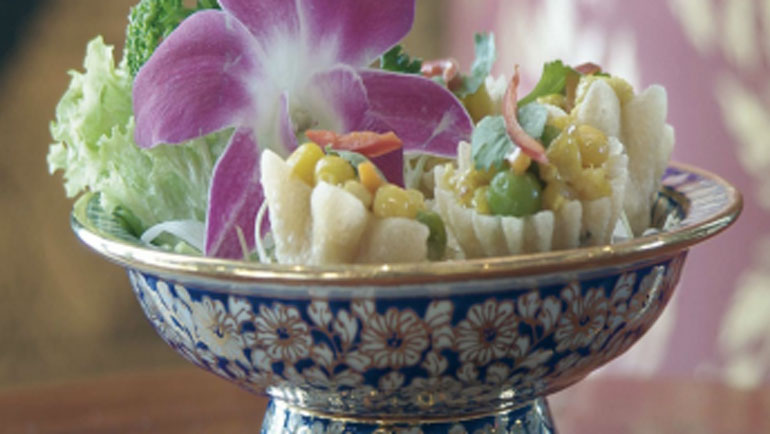 Rather enjoy it at home?
All the dishes included on the Angkor menu HERE are also available to take away to eat at home; in the office or any other quiet location.
Just give us a quick phone call (043 205 28 88) and our chefs will prepare the dishes of your choice.
Die Online-Takeaway-Bestellung ist momentan nicht möglich.
ATTENTION:
Onlineshop temporarily closed!
Have it delivered!
order online!
Have our fine dishes delivered directly to your door. Order conveniently via one of these platforms:

The Angkor Restaurant was opened in January 2005 by Kheng Ly, after numerous artists and craftsmen from Thailand and Cambodia has been working on the handmade interior for over a year. Therefore, this is why the gilded relief of the temple Angkor-wat at the bar at the Entrance of Restaurant was forthfully and lavishly crafted according to this world-famous temple.
Kheng's biggest dream has always been someday to create a gourmet temple, which had never seen in Zurich in terms of interior design and culinary offerings.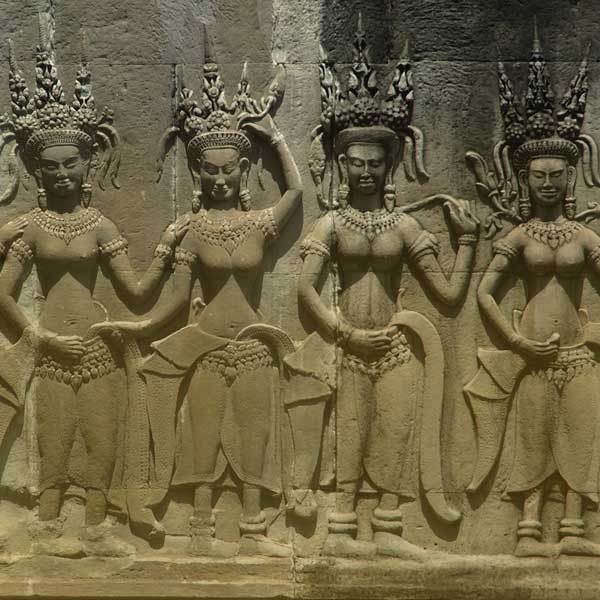 The idea was, that the guests should escape their daily routine for a few hours and feel like they were on vacation.
What started as an insider tip is now widely known. The Angkor has many regulars who enjoy the unique atmosphere of this Far Eastern culinary temple.
I welcome all connoisseurs and lovers of Southeast Asian cuisine.
Susan Ly
the restaurant
Famous temple Watt
As soon as you walk through the heavy, carved wooden doors you will feel as if you have entered another world. The first thing you will see is the bar, decorated to resemble one of the world's most famous temple complexes – Angkor Wat.
No matter where you sit, on chairs or sofas, you will keep on discovering new details of this unique décor wherever you look. At the same time you will embark on a culinary journey which takes you from India to Thailand, Cambodia, Vietnam and Japan.
A small treasure chamber is located in the centre of the restaurant and offers guests the option of enjoying a private evening with a few good friends. Alternatively, this lavishly decorated room can be used for a fun karaoke evening with all the latest equipment.
our aquarium
eat surrounded by magnificent koi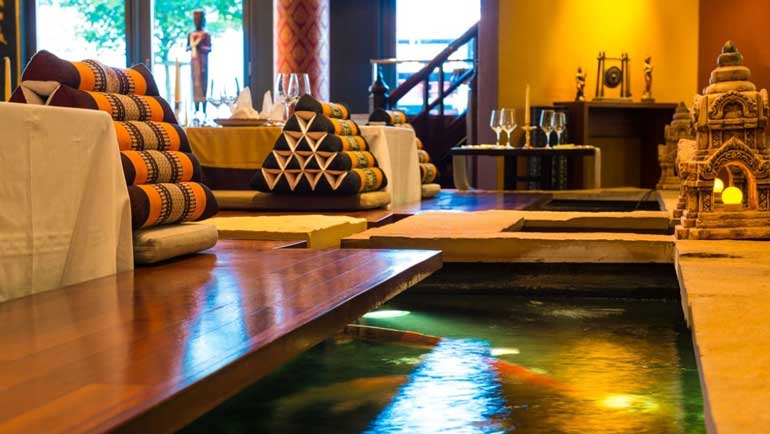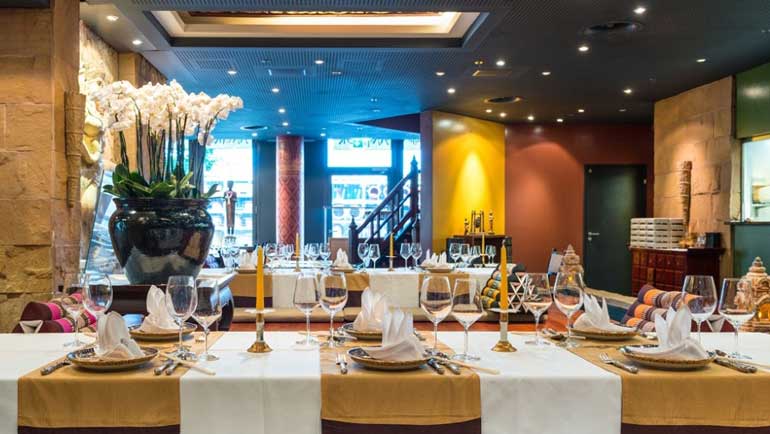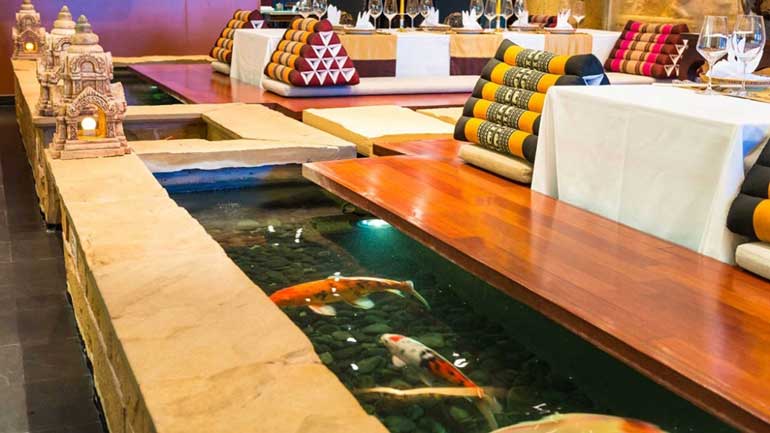 Enjoy our special menus here
The Aquarium section of the restaurant is unique in Switzerland. It is separated from the other areas by a small stone bridge which guests must cross to reach the cosy, sunken seating area. Beautiful coloured koi carp will swim around you as 'Absara', the Thai temple dancer, smiles down at you from the wall.
The other side of the room is characterized by a sizzling, steaming atmosphere as our chefs dexterously prepare diners' meals. The flames which shoot up behind the glass pane every few minutes are clear proof that all dishes are freshly prepared from scratch.
This section of the restaurant is exclusively devoted to our two special menus. 'Absara' and 'Angkor' are symphonies composed of Asian delicacies. See the 'Menu' section for further details. If you have something special to celebrate or would like to impress someone, then book a table in the Aquarium.
Lounge, Bar
fine drinks & food to set the mood or to say goodbye
Treat yourself to a drink at the bar or in the comfortable lounge to get in the mood for dinner or before you hit the road. The raised area provides a view across the hustle and bustle of the restaurant. On request we are also happy to serve food in the lounge, where our guests can enjoy their meal on the wonderfully comfortable sofas.
Terrace, hall
enjoy drinks between tropical plants
Enjoy a drink or a small starter surrounded by tropical plants while you wait for your friends outside the restaurant in the imposing Giessereihalle, a former foundry building.
Summer and weather permitting, we are also happy to reserve a table for you on our large patio, which offers a view across the wide, pedestrianized Turbinenplatz square. Enjoy the wonderful atmosphere while sitting on our comfortable chairs under colourful sunshades. Without doubt the best way to experience that holiday feeling while in Zürich.
contact
We look forward to fulfilling your wishes.
Sunday
temporarily closed
Monday – Friday
11:30 – 14:00 Uhr
18:00 – 22.30 Uhr
Saturday
18:00 – 22:30 Uhr
ATTENTION:
Company vacations from 31.07.2023 to 14.08.2023 inclusive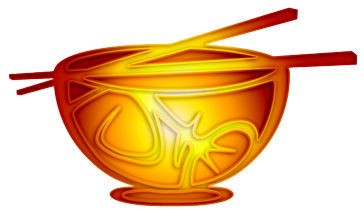 Monday – Friday
11:30 – 15:00 Uhr
18:00 – 21.00 Uhr
Saturday
11:30 – 14:30 Uhr